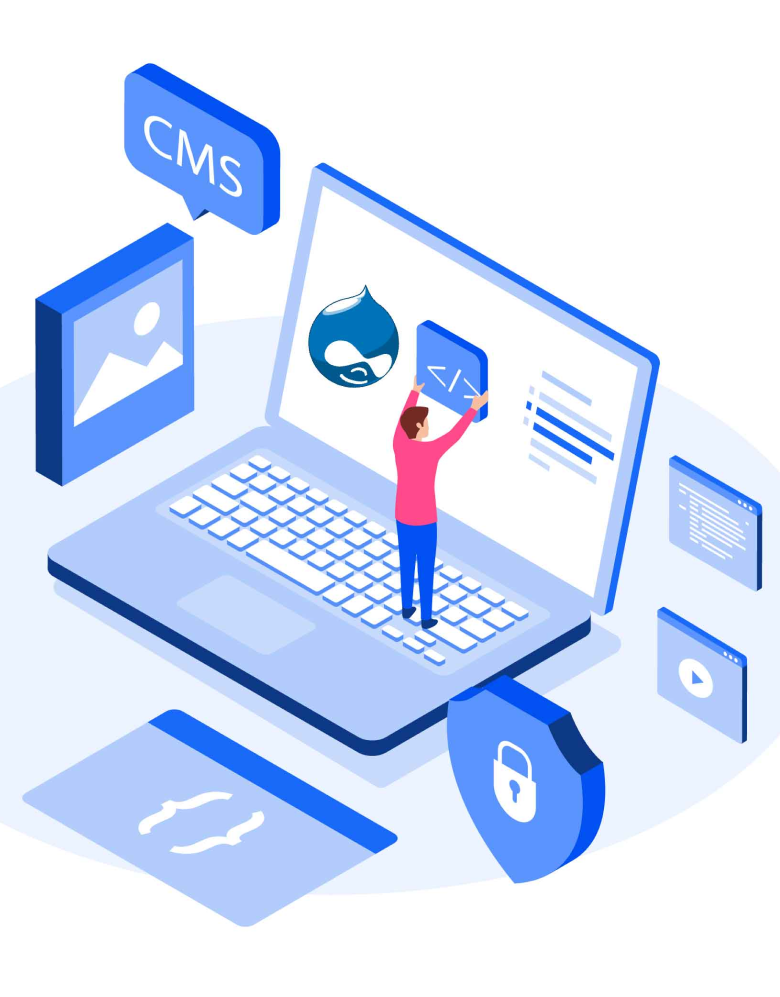 Drupal as a Content Management System
Drupal CMS (Content Management System) is a powerful and versatile open-source platform that empowers individuals, businesses, and organizations to build and manage robust websites and digital experiences. With its flexible architecture, extensive module ecosystem, and active community support, Drupal CMS has become a popular choice for creating websites ranging from personal blogs to enterprise-level applications. 
With its powerful features, flexibility, and extensive customization capabilities, Drupal has emerged as a leading choice for building dynamic and scalable websites. It is considered the best CMS in the market, highlighting its advanced content management features, security and reliability, scalability and performance benefits, extensive community support, seamless integration with other systems, and cost-effectiveness.
Drupal Core Components
To understand how Drupal works, it's essential to grasp its core components. At the heart of Drupal is its core, which provides the fundamental functionalities for building your website. It handles things like managing content, user authentication, and basic site administration. Think of it as the trusty engine that keeps everything running smoothly.
Extensive Theming Options for Unique Designs
Aesthetics matter, and Drupal gets it. With its extensive theming options, you can wave your creative wand and conjure up a unique design that perfectly captures your brand's personality. Whether you're a minimalist with a love for clean lines or a maximalist with a flair for bold colors, Drupal gives you the creative freedom to bring your website to life in your own style.
Taxonomy and Content Organization
Keeping your content organized and easily accessible is key to a stellar user experience. Luckily, Drupal has your back with its robust taxonomy and content organization features. You can create custom categories, tags, and other ways to classify your content, making it a breeze for your visitors to find what they're looking for.
Robust Security Measures for Protection
When it comes to your website's security, Drupal is like a ninja in a well-fortified fortress. Its code has been battle-tested by a dedicated community of security experts, ensuring that vulnerabilities are quickly identified and patched up. So kick back, relax, and let Drupal handle the heavy lifting when it comes to protecting your precious website.
Global Community of Drupal Enthusiasts
Drupal has a vibrant and enthusiastic community of users and developers ready to lend a helping hand. Whether you're a seasoned pro or just starting out, you can tap into this wealth of knowledge and support to get the most out of your Drupal experience. It's like having a whole army of Drupal-loving friends at your fingertips.
Open-source Nature Reduces Licensing Costs
Say goodbye to hefty licensing fees! Drupal's open-source nature means you can use it without paying a penny. That's right – it's free! This cost-saving advantage allows you to allocate your budget to other areas, maximizing your resources and getting the most bang for your buck.
Open Source CMS Development
Drupal is a great CMS development platform and we are masters at open source CMS development using Drupal.
Drupal migration/upgradation
If you wish to migrate to Drupal from any CMS, we will make it smooth and hassle-free with our unmatched services.
Drupal Plugin development
Enhance your website's functionalities by adding feature-rich plugins with our custom plugin development.
Responsive Drupal Websites
Allow us to build a Drupal website for you and you will be pleased to have us on-board. Target your mobile users and reach out to a wider audience by availing our Drupal responsive web development.
Drupal Maintenance
In addition to development services, be rest assured of comprehensive and quality support and maintenance services from us.
Drupal Theme Development
Adorn your website with unique and attractive design with our Drupal theme & template design & development services.
Dedicated Drupal Developers
Our Drupal developers have the capability to develop high-quality and full-scale Drupal websites that render established industry standards and latest trends.
Affordable pricing
Creating impressive websites or churning Drupal code intensively is not always a costly affair. We always remain competitive in the market so anyone can approach us and leverage our offerings extensively.
High Quality User Experience
Avail real benefits of our experience in Drupal designing and Drupal with the highest quality throughputs. Extend your website with a video gallery, Twitter feed, event calendar or a Facebook fan box – we do it for you by using Drupal plug-ins that are either free or available at affordable prices.
100% fully responsive website
We understand the challenges faced in mobile-friendly website development and have the required skills and know-how to overcome them in an effective manner. We ensure that you get a website which is compatible with every internet enabled device.
Dedicated Wix Developers
Our Wix developers have the capability to develop high-quality and full-scale Wix websites that render established industry standards and latest trends.
Remember, your success is our priority. Let's embark on this Drupal journey together!