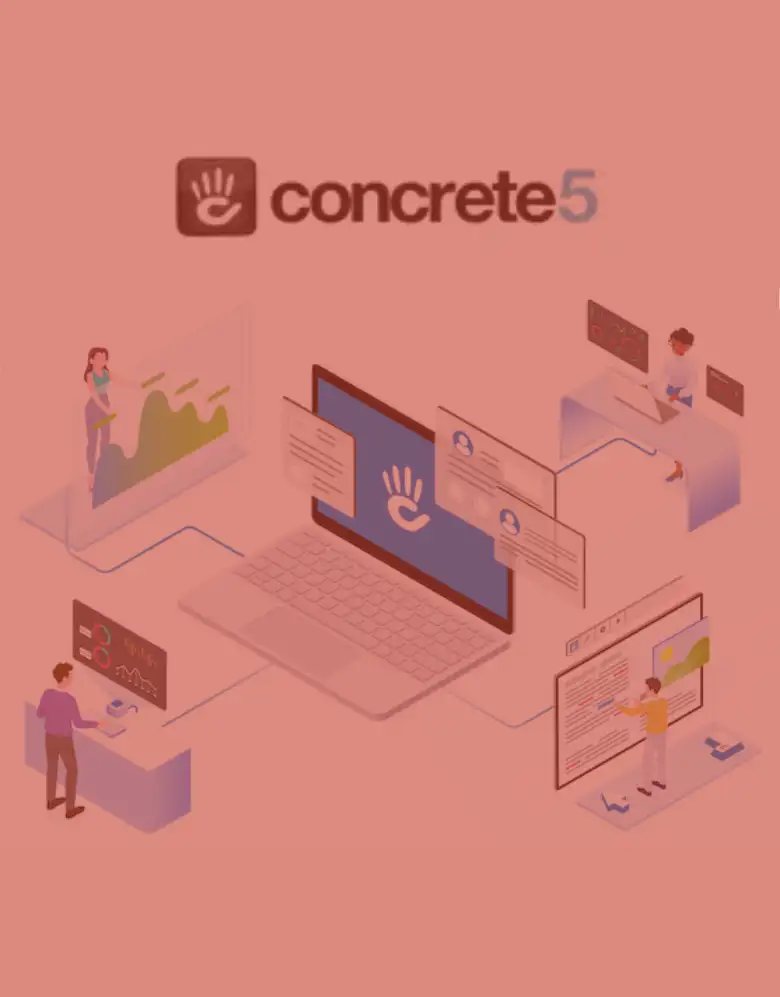 Simplify Website Creation with Concrete CMS
Concrete CMS is a powerful and user-friendly content management system designed to simplify the process of creating and managing websites. With its intuitive interface and extensive feature set, Concrete CMS offers a range of tools and functionalities to cater to the needs of both beginners and experienced web developers.
Intuitive Dashboard
Say goodbye to confusing menus and complicated interfaces. Concrete CMS boasts an intuitive dashboard that puts everything you need right at your fingertips. With a clean and organized layout, you can easily navigate through your website's backend, making updates and changes a breeze.
Database and System Compatibility
Concrete CMS is designed to work smoothly with various databases and systems, ensuring compatibility and easy integration with your existing infrastructure. Whether you're using MySQL, PostgreSQL, or Microsoft SQL Server, Concrete CMS can handle it.
Content Hierarchy and Structuring
Organizing your content has never been easier. Concrete CMS allows you to create a clear hierarchy for your website's pages, making it simple for visitors to navigate and find what they're looking for. With nested pages and customizable navigation menus, you can create a well-structured website that keeps your content organized and accessible.
File and Media Management
Managing files and media is a breeze with Concrete CMS. Whether you need to upload images, videos, PDFs, or any other file type, the platform provides a user-friendly interface for organizing and accessing your media library. No more sifting through endless folders to find what you need – Concrete CMS makes file management quick and painless.
Mistakes happen, but with Concrete CMS, they don't have to be permanent. The platform offers version control and rollback capabilities, allowing you to revert to previous versions of your pages or content. So, whether you accidentally deleted a crucial section or made changes you're not happy with, you can easily undo the damage and restore a previous version.
Managing multiple websites has never been easier with Concrete CMS. Its multi-site management feature allows you to handle all your websites from a single administrative interface. Say goodbye to the hassle of logging into different platforms for each site.
Concrete CMS offers seamless integration with an array of third-party plugins and APIs, allowing you to extend the functionality of your website. Whether you need e-commerce capabilities, social media integration, or customer relationship management tools, Concrete CMS has you covered.
Concrete CMS simplifies the content editing process with its drag-and-drop functionality. Concrete CMS offers a robust WYSIWYG editor that allows you to create and edit content in a visual manner, without having to worry about the underlying code. With its familiar formatting options, you can easily style your text, insert images, and embed videos, all with a few clicks.
In conclusion, Concrete CMS is a versatile and powerful content management system that offers a wide range of features to streamline website creation and management. With its intuitive interface, customization options, advanced content management capabilities, seamless integration with external tools, robust security measures, built-in marketing and SEO tools, and efficient collaboration features, Concrete CMS empowers users to create and manage websites with ease.
Start leveraging the power of Concrete CMS today and take your online presence to new heights.